Plan to attend our annual meeting on Thursday, March 7th and learn what your HOA Board has been doing for you this past year.
Our Meeting will again be held at:  The Lakeside Clubhouse Room at Bethany Lakes Park (Joe Farmer Recreation Area) on Allen Heights Dr. just north of Bethany Dr. (The parking lot is the first right north of Bethany Dr.) The address is 745 S. Allen Heights Drive.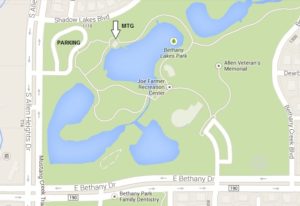 Thursday March 7, 2019  7:00-8:00 PM
Please come out and support your community.